Accessibility
The Fundació works to disseminate contemporary art and thought through the organisation of exhibitions and various cultural proposals with a pluralist approach. Our aim is for everyone to be able to find an area of ​​interest and feel part of the project. For this reason, the Fundació wants to help ensure that all people, whatever their living conditions or circumstances, have access to our cultural programme, which includes adaptations for people with special mobility or learning needs. Similarly, we offer free admission to the Museum so that no one in a vulnerable situation or at risk of social exclusion is denied access to culture for economic reasons.
1. Physical accessibility:
-The Fundació's building is an accessible architectural space, with wheelchair access to all areas. The entrance from the street is through the left-side door, from where you can access lifts that connect the different levels of the Museum. A wheelchair loan service is available, as are folding stools to facilitate rest during the visit, together with adapted toilets. More details can be found on the Barcelona Accessible Tourism website.
2. Sensory accessibility:
We offer personalised attention adapted to special needs related to:
Visual accessibility:
Guide dogs are welcome throughout the building. Upon request, guided tours with the support of tactile materials are available.
Hearing accessibility:
Upon request, inclusive guided tours with sign language interpretation are available.
3. Cognitive accessibility:
Prior advice is provided for independent tours and, upon request, adapted guided activities are also available.
Special programmes:
-Collaboration with associations and groups interested in developing a long-term shared project in which to reflect upon, and from, diversity around the exhibitions.
-Free admission to the Museum upon presentation of documentation by the holder and his or her guest proving disability or unemployed status, ensuring no one is denied access to culture for economic reasons.
-Upon request, reduced-price guided visits for groups.
-Inclusive activities at a specially reduced cost aimed at people with diverse sensory abilities and at risk of social exclusion are available within the Apropa Cultura programme. Advanced booking through the programme's website is essential.
DYNAMIC VISIT TO THE CURRENT EXHIBITION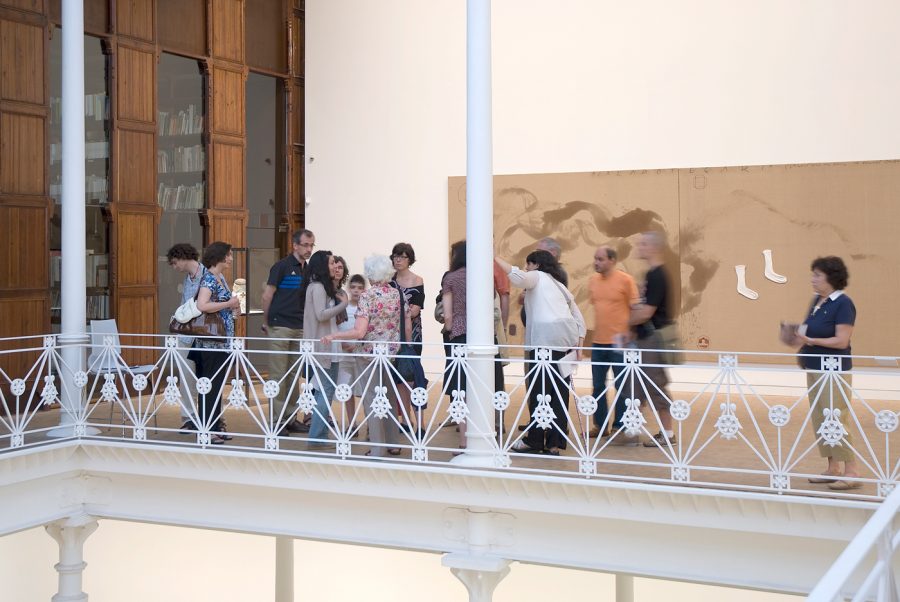 The visit is conceived as an itinerary in which, with the help of a Museum educator and through dialogue, play and various artistic methodologies, we establish personal links with some of the works on display.
Duration: 1 h. | Price: 75 €, normal rate / 50 €, reduced rate, upon request / 20 €, Apropa Cultura rate. | Further information and reservations: 676 24 37 02 / reserves@ftapies.com
ACTIVE VISIT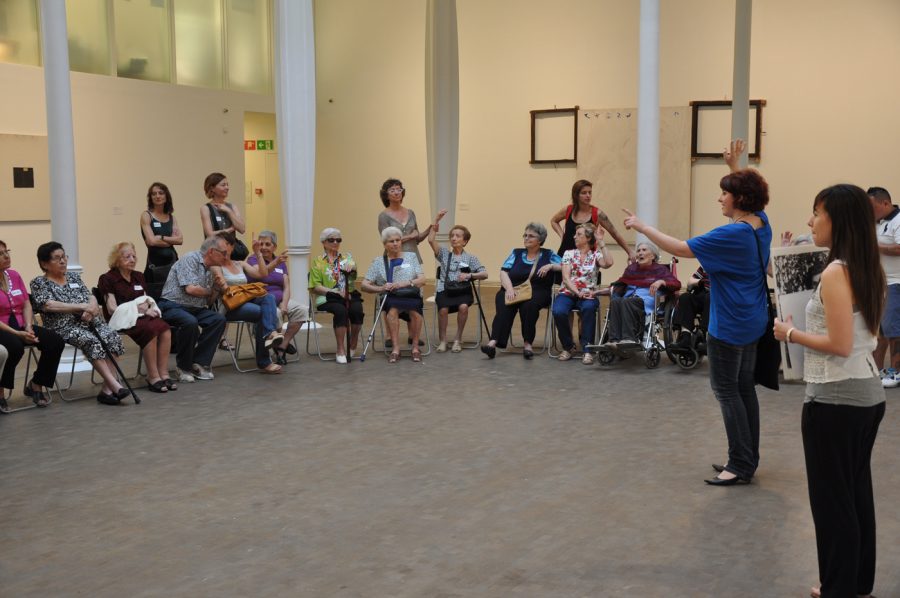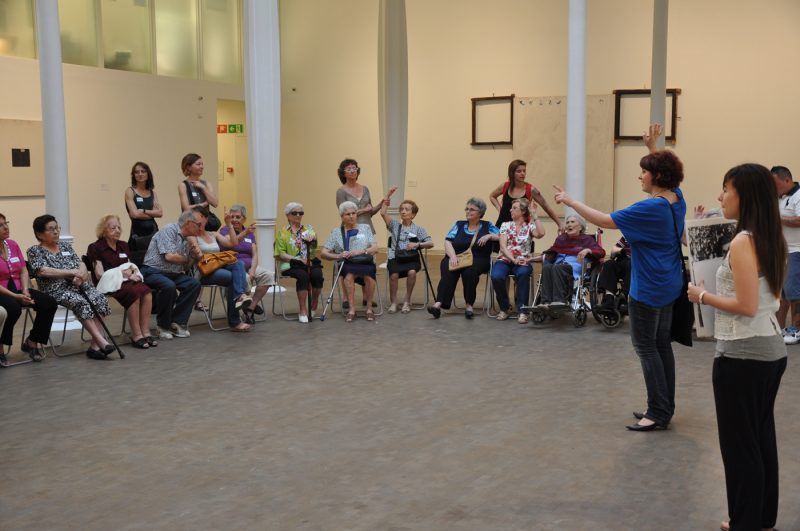 Dynamic visit to the current exhibition aimed especially at the elderly and people affected by Alzheimer's disease, their families and carers. During the visit, graphic and tactile resources are used that are designed to stimulate conversation, emotional bonding, personal memories and long-term memory in a climate that encourages personal development.
Duration: 1 h. | Price: 75 €, normal rate / 50 €, reduced rate, upon request / 20 €, Apropa Cultura rate | Further information and reservations: 676 24 37 02 / reserves@ftapies.com
FREE INDEPENDENT VISIT TO THE EXHIBITIONS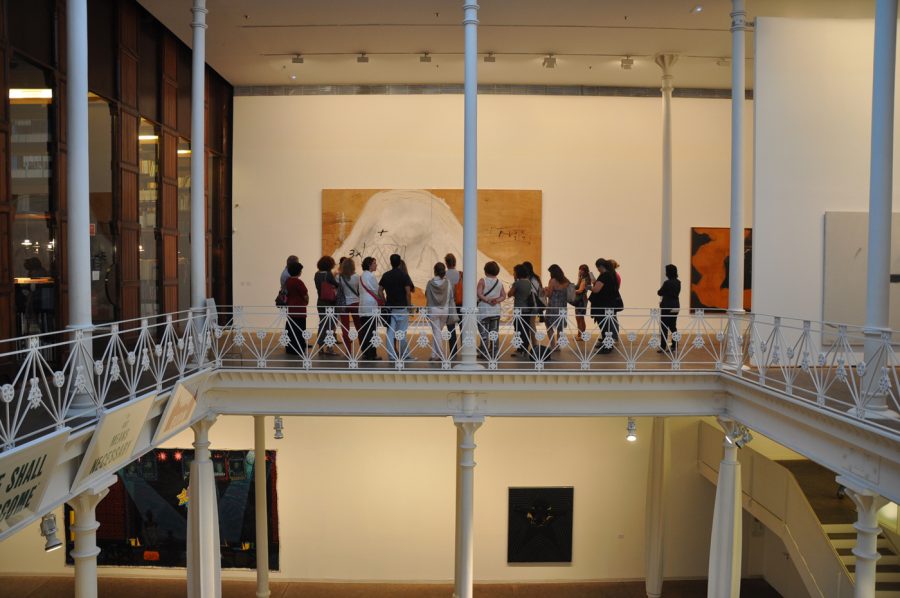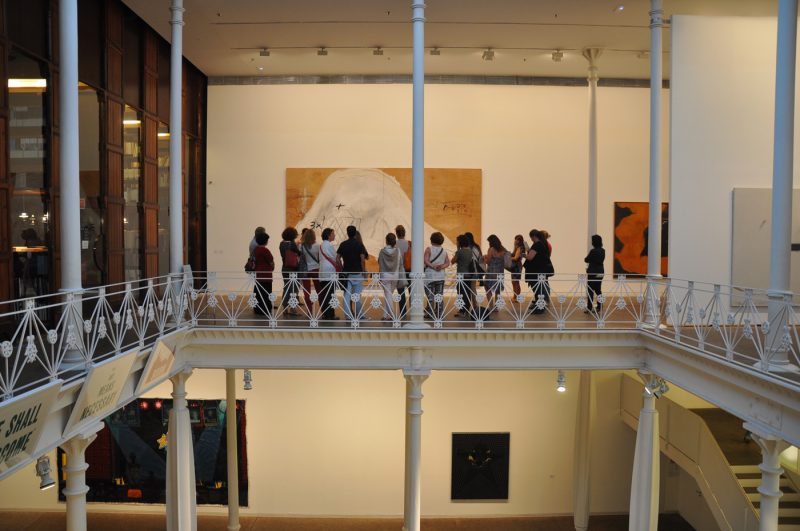 Free independent visit to the Fundació to enjoy both the exhibitions and the building of the former Montaner y Simón publishing house. The visit is unguided.
Price: free, prior reservation through the Apropa Cultura website.
OTHER PROJECTS
-The Fundació regularly collaborates with projects related to mental health by developing artistic projects with the Programa Alterarte. Artistic, educational and community programme for mental health in the Maresme; the SRC de Les Corts; the Fundació Els Tres Turons; and Susoespai, creation and mental health, Barcelona.
-The Fundació belongs to a group of museum professionals who meet regularly to network on accessibility issues.
-During 2018, the Fundació developed the project Werker 10. Escola de Fotografia Popular. Funded by La Caixa, this project is aimed at four groups especially vulnerable to social exclusion: Susoespai, creation and mental health; Baixem al carrer, Poble Sec community plan for the elderly; Dar Chabad, facility for young migrants in situations of vulnerability; and the Taula for the defence of domestic workers, cleaners and carers.
Contact for further information:
Rosa Eva Campo
rosaeva@ftapies.com
Tel. 934 870 315